Best Asian Cuisine In Kansas City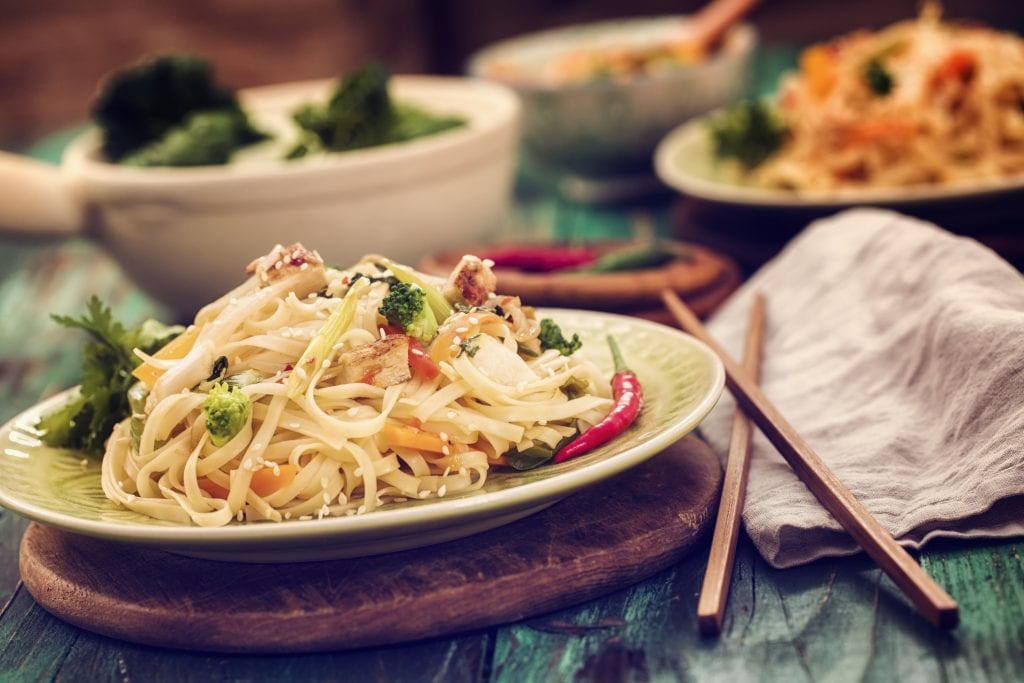 1803 W 39th St, Kansas City – 5 mins
Since opening in 2002, Blue Koi has developed a delicious reputation in the Kansas City Community. Menu items include: Steamed Veg Dumplings, Chicken Lettuce Wrap, Scallion Biscuit, Vegetable Noodle Soup, Wonton Noodle Soup, Chinese Style Pot Roast, Ants On A Tree, Braised Tofu, Fire Bird, Black Bean Chicken, Bubble Tea and more. Hours are Mon-Thur 11am-9pm, Friday 11am-10pm and Saturday Noon-10pm.
1531 Grand Blvd, Kansas City – 9 mins
Come visit one of the popular Korean Restaurants locates in Kansas City. Menu items include Edamame, Dumplings, Korean Fried Chicken Wings, Crab Rangoon, Calamari Tempura, Salads, Rice Cakes, Japchae Glass Noodles, Fried Rice, BBQ Beef and soups. Hours are Mon-Thur 11am-2:30pm and 4:30pm-9pm, Friday 11am-2:30pm and 4:30pm-11pm, Saturday Noon-11pm and Sunday 4:30pm-9pm.
4011 N Oak Trafficway, Kansas City – 16 mins
Bun Mee Phan serves a variety of Vietnamese dishes and sandwiches. Their menu features: Steam Pork, Lemongrass Tofu, Caramelized Pork Belly, Chinese BBQ Pork Bowl, Fried Tilapia Bowl, Meatball Bowl, Spring Rolls, Beef Pho, Spicy Noodle Soup, Bubble Tea and More. Hours of operation are Tues-Sat 10am-8pm and Sunday 11am-8pm.
8431 Wornall Rd, Kansas City – 14 mins
Try some of the Liberda's famous Thai dishes in Kansas City. The Dinner menu features: Appetizers, Soups, Salads, Sides, Specials, Sautee, Curry and Vegan dishes. Hours are Tues-Thur 11am-9:30pm, Fri-Sat 11am-10:30pm and Sunday 11am-8pm.
500 W 75th St, Kansas City – 11 mins
Celebrate the history of Ramen when you dine at Boru. The menu consists of Appetizers, Steamed Baos, A variety of Ramen choices, Rice, Entrees, Soju, Shochu, Sake, Desserts and Cocktails. Hours are Mon-Thur 11am-10pm, Fri-Sat 11am-11pm and Sunday 11am-9pm.
2417 Burlington St, North Kansas City – 13 mins
Enjoy authentic Thai and mixed Asian Cuisine at Spices. Menu items include: Shrimp Rolls, Asian Spices Fish Cakes, Grilled Chicken Satay, Thai Style Som Tum Papaya Salad, Yum Yum Spicy Seafood Salad, Green Curry, Massaman Curry, Pho, Chinese Wonton Noodle Soup, Thai Style Duck Noodle Soup, Delicious Pad Thai, Pad See Eew Noodles, Pineapple Fried Rice, Seafood Fried Rice, Royal Chicken, Roasted Chicken, Mongolian Style Beef and more. Hours are Mon-Thur 11am-9pm and Fri-Sat 11am-9:15pm.